As we wrote in a previous post, the Concordia campus location is located on a 389-acre tract in Northwest Austin, most of which is dedicated wildlife nature preserve with lots of trails, flora and fauna. There will be plenty of opportunities for morning nature walks and self-guided hikes, in the time you find between the deep learning sessions and enjoying time with other CA 2E / CA Plex professionals.
According to the Concordia website,
"…the campus is a living classroom for the study of responsible urban environmentalism and offers a unique opportunity to investigate and manage endangered species, native plants, hydrology, forestry, geology and archeology in a spectacular setting crafted by God's divine hand.
Learn more about the Concordia Campus nature preserve on their website.
For the adventurous, Austin provides additional hiking opportunities outside of the Concordia nature preserve. These additional walks are worth a look:
Ann and Roy Butler Hike and Bike Trail

The Ann and Roy Butler Hike and Bike Trail around Lady Bird Lake is by far the most popular trail in Austin with more than 4.4 million visits a year, the 10-mile hike-and-bike trail is Austin's most recognized and popular recreational area. If you love people-watching, sunsets, and great views of the Austin skyline, then walk to the edge of the lake and have yourself an adventure.
Barton Creek Greenbelt

The Barton Creek Greenbelt is the go-to hiking spot for tons of folks due to how accessible and beautiful this Greenbelt is. The Greenbelt is 12 miles long with extensions coming but you don't have to go the whole length to get a taste of what makes Barton Creek such a great place to spend the day. The Greenbelt has six access points, so you can hop off and on where you please.
Red Bud Isle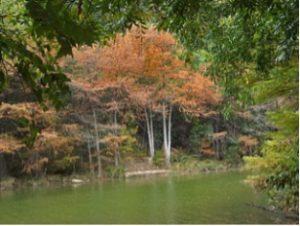 Red Bud Isle is a great place to check out some fall foliage as our conference will be in October, and the island is packed with beautiful views. The trail is primarily used for hiking and nature trips and is accessible year-round.
St. Edwards Park

St. Edwards Park is gorgeous and a ton of fun to explore! There are a few miles of trails and several places to swim.  It has wide open spaces to enjoy hill country views. It also includes a stream running through the middle and cactus spread throughout the area.
Mount Bonnell

Mount Bonnell, also known as Covert Park, is a prominent point alongside the Lake Austin portion of the Colorado River in Austin, Texas. Mount Bonnell is one of the classic Austin views, it's always fun to go enjoy the view. It's a short hike to the top and has great views of downtown and Lake Austin. Go at sunset for added beauty!
Pennybacker Bridge/360 Bridge
With one of the most iconic Austin views, the Pennybacker Bridge/360 Overlook is a must for anyone in Austin! It's a short, steep hike to the top and the views are well worth it.
To learn more about the many additional things one can do in the Austin, Texas area, take a look at our recent blog post on the topic.